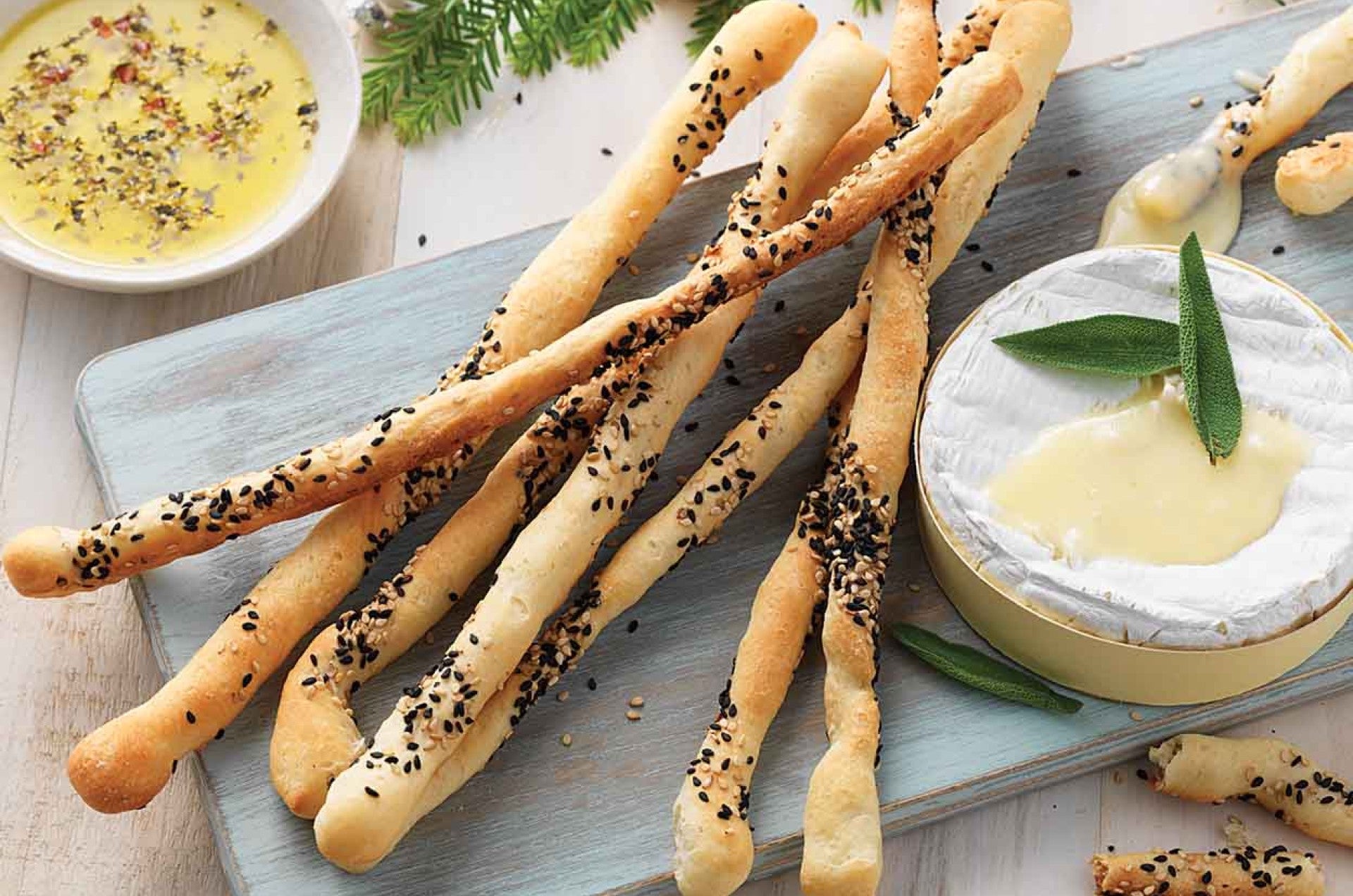 It's National...Breadstick Day? Who even knew there was such a thing! Bread and wine are natural partners in the food and wine world. And we know, from how much everyone loves to snack on the thin, crispy breadsticks at the tasting room, that there is something so irresistible about the snap of a thin breadstick while you sip on wine. We stumbled upon this simple breadstick recipe so that you can recreate your favorite tasting room snack at home.
Grissini is a style of breadstick that originated in the Piemonte region of Italy. They were invented to provide the young, sickly Duke Vittorio Amedeo II of Savoy something gentle to eat. A baker from the town of Turin decided to take some bread dough and stretch it out into long thin strips before firing them in the oven. And thus we have the Grissini.
The recipe calls for sesame seeds, but you can play around with other herbs. Consider using some of your favorite Italian seasonings like rosemary or thyme. Dip them in olive oil and enjoy with your favorite Rubino Estates wine!
Ingredients
Dough
2 teaspoons instant yeast
2 teaspoons sugar
1 1/4 teaspoons salt
1 tablespoon Pizza Dough Flavor (optional, but tasty)
1 tablespoon King Arthur Easy-Roll Dough Improver, Baker's Special Dry Milk, or nonfat dry milk
3 cups (396g) King Arthur Italian-Style Flour,
3/4 cup (170g) lukewarm water
2 tablespoons (25g) olive oil
Topping
1 egg white, beaten with 1 tablespoon cold water
1/3 cup (47g) sesame seeds, or a mixture of your favorite seeds
Directions
Mix and knead the dough ingredients — by hand, mixer, or bread machine set on the dough cycle — to make a soft, supple dough. Add one to two additional tablespoons of water if you are in a drier climate.
Divide the dough in half, cover with lightly greased plastic wrap, and let it rest and relax for 15 minutes (or for up to an hour or so; work it into your schedule as you see fit).
Working with one half of the dough at a time, pat or roll it into a 9" x 13" rectangle. Brush the dough lightly with the egg white and water, and sprinkle it with the seeds. Roll the dough lightly with a rolling pin to press the seeds in.
Use a pizza wheel or sharp knife to cut the dough (the short way) into strips about 3/8" wide. Twist the ends of each strip in opposite directions (as though you were wringing out a washcloth) to make a "twist," and place them on lightly greased or parchment-lined baking sheets.
Cover the breadsticks and let them rest and rise for 30 to 60 minutes, until they've puffed noticeably.
Towards the end of the rising time, preheat the oven to 425°F.
Bake the breadsticks for 12 to 14 minutes, or until they're golden brown. Remove them from the oven, and cool on a rack.
Halloween is coming up, and while it may look different than years before, there's a chance you may still have a little gathering with family and friends. The kids will be stuffing their mouths with candy, but what about another adult-friendly alternative? It's not quite cold enough for mulled wine, but we love a good sangria, and we think this recipe for Honeycrisp Apple Sangria by Sally's Baking Addiction is a great fall-inspired drink to sip on while gathering around the fire. Double the recipe for a large group! We suggest using the 2016 Rubino Estates Amuleto for its hints of spice and cranberries.
Honeycrisp Apple Sangria
Ingredients
3 cinnamon sticks (plus more for garnish)
2 Honeycrisp apples, chopped
1 orange, thinly sliced
1 (750 ml) bottle 2016 Rubino Estates Amuleto
1 and 3/4 cups homemade apple cider or store-bought*
1/2 cup brandy
1/4 cup orange juice (or juice from 2 medium oranges)
juice from 1 lemon
club soda, to taste
Directions
​Place the cinnamon sticks, apples, and orange slices in a large pitcher. Add wine, apple cider, brandy, orange juice, and lemon juice. Allow to sit in the refrigerator for 6 – 24 hours. Taste; if you'd like it to be sweeter, add 1-2 Tablespoons granulated sugar, honey, or agave.
If you'd like a cinnamon-sugar rim (highly recommended), simply moisten the rim of your glasses with water, turn the glass upside down and dip it into a mix of cinnamon and sugar. Pour in the sangria with fruit* and add a splash of club soda (this unsweetened fizz is wonderful with the sangria!). Garnish with a cinnamon stick, if desired. Cheers!
Ready to make this delightful fall drink for your next family gathering? Stop by the tasting room and take advantage of the last few magnums of 2016 Amuleto!
It's October, and that means soup season is upon us! After the rush of harvest, it's nice to have easy meals on hand so that the weekends really feel like a weekend. We like to make a double batch to have plenty of leftovers to enjoy as lunch for the week or to freeze for another rainy day.
Corn Chowder is one of our favorites. Take some of the last Brentwood Sweet Corn of the season, add potatoes, and maybe a little bacon, and you're all set. What we love about this recipe is that you also make your own corn stock for the soup! We were surprised by the depth of flavor the corn stock added. Add a little cream at the end for a little richness and enjoy with a glass of the 2016 Rubino Estates Riserva Chardonnay. It's rich, smooth texture and pleasant acidity make it a perfect wine for your favorite fall soups!
Basic Corn Chowder via New York Times Cooking

Ingredients
4 to 6 ears of corn
1 tablespoon butter or neutral oil, like canola or grapeseed
1 medium onion, chopped
2 medium potatoes, peeled and diced
Salt and freshly ground black pepper
2 tomatoes, cored, seeded and chopped (optional)
1 cup whole or low-fat milk
½ cup chopped parsley (optional)
Directions
Shuck corn, and use a paring knife to strip kernels into a bowl. Put cobs in a pot with 4 cups water; bring to a boil, cover and simmer while you continue.
Put butter or oil in a saucepan, and turn heat to medium-high. When butter melts or oil is hot, add onion and potatoes, along with a sprinkling of salt and pepper. Cook, stirring occasionally, until onion softens, about 5 minutes; add tomatoes and cook, stirring, for another minute or two.
After corncobs have cooked at least 10 minutes, strain liquid into onion-potato mixture; bring to a boil, then lower heat to a simmer. When potatoes are tender, add corn kernels and milk, and heat through. Taste, and adjust seasonings. Garnish with the parsley, and serve.
Enjoy complimentary shipping on 6 or more bottles!
It's finally football season! September is almost over and we may not be going to games, this fall, why not throw a nice socially-distant football party at home? Many associate football games with beer, but we think wine is a great option for all of your favorite football snacks. Below, we're sharing a few recipes and wine pairings for you to enjoy during the next big game. Let us know which one is your favorite!
Football Snacks and Rubino Estates Wine Pairings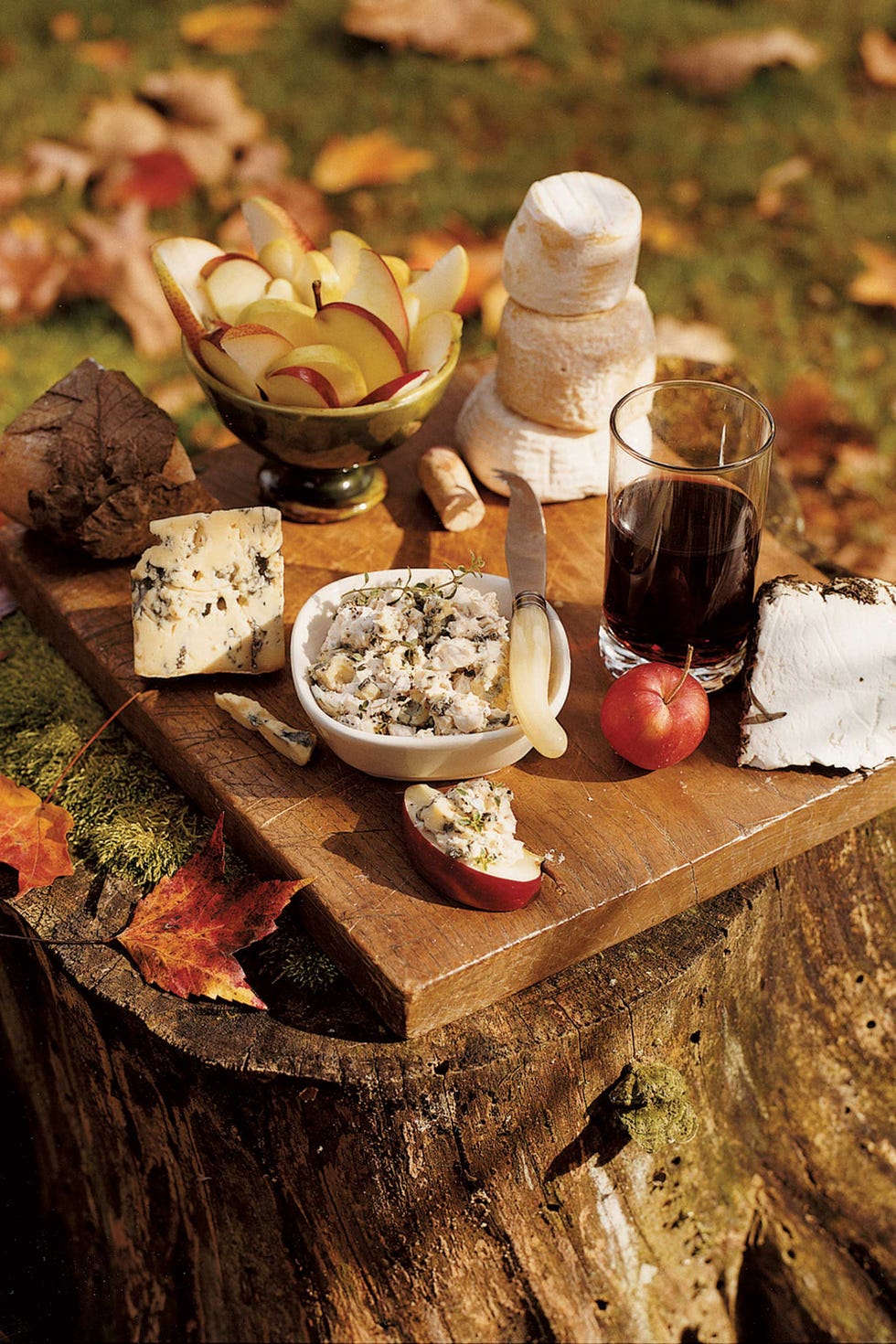 Tag us on social @rubinoestateswines with your favorite combinations!
To keep the house cool during summer, we try to grill as much as possible. We get to reduce the mess in the kitchen, enjoy a glass of wine on the patio while we wait for the food to cook, and enjoy the sunset. There is also something about the way the grill transforms the flavors of food - we have yet to eat a vegetable that did not taste way better when it was grilled!
One of our favorite, simple condiments to make at home are compound butters. What is compound butter? It is essentially butter that is softened, mixed with spices or herbs, and then chilled down again to form a nice round log of deliciousness that you can slice and put atop or mix into foods.
The August Wine of the Month is our 2017 Rubino Estates Riserva Cabernet Sauvignon. With brooding aromas of dark fruit with cooked plum and sweet cherries, delicate notes of baking spices and vanilla, and firm tannins, it is one of our favorite wines for a grilled filet or ribeye. Pair your next steak with our Riserva Cabernet Sauvignon and one of the herb butters below. PS. These butters are also great on a platter of grilled vegetables too!
Tasty Compound Butter Recipes
To make compound butter, soften butter until it's easy to mix with a hand mixer or you can use fewer dishes to use a fork and bowl. Mix in your desired herbs and seasonings. Transfer the softened butter to a sheet of parchment paper or plastic wrap. Form the softened butter into a log, twist the ends of the parchment paper, or plastic wrap to hold. Chill the butter for at least 2 hours or until firm. The butter can be stored in the fridge or freezer until needed.
1 stick unsalted butter
2 tablespoons chopped fresh herbs (such as parsley, thyme, rosemary and oregano)
½ teaspoon salt
1/2 teaspoon ground pepper
1 stick unsalted butter
½ jalapeno pepper, seeded and minced very finely
juice of ½ lime
½ teaspoon salt
1 stick unsalted Butter
2 heads Garlic
2 tsp Olive oil
1/2 tsp Kosher or sea salt
Order your 2017 Riserva Cabernet Sauvignon for pickup today. Enjoy complimentary shipping on orders containing 6 or more bottles!
July 25th is National Wine and Cheese Day, and, not that we needed another reason to drink wine and eat cheese, we're excited to make a cheese board at home this weekend.
As you know, Rubino Estates' approach to wines is to honor its Italian heritage while also honoring its California history—that's why we call ourselves a Cal-Ital winery! Due to popular demand, we've brought back the Cal-Ital 6-pack. It's a curated collection of our favorite Italian inspired reds: Sangiovese, Primitivo, and Ferrario. So today, we're highlighting some Italian-inspired cheeses made right here in California that are perfect matches for our Cal-Ital wines!
Belfiore Mozzarella - Belfiore's cheeses are 100% natural with no additives or preservatives. Their Mozzarella's mild flavor and semi-soft texture are delightful— and it's an excellent cheese for pizzas, chicken parmesan, or any other recipe that requires a melty cheese.
Gioia Cheese Co. Burrata - This 3rd generation cheese monger learned the secret to making exception Italian cheese from his Italian father and grandfather. Their burrata is an authentic Italian recipe made right here in California. Burrata's creamy texture is great for spreading on thin slices of bread or atop a salad of fresh tomatoes drizzled with olive oil and balsamic vinegar.
Bellwether Farms San Andreas - Bellwether Farms is a family-owned cheese factory in the foggy hills of Sonoma coast where they raise sheep and cows to produce their cheese. The San Andreas has floral and grassy with nutty undertones and was inspired by the aged sheep milk cheeses of Tuscany.
Bellwether Farms Pepato - The Pepato is similar to the San Andreas but flavored with specks of peppercorn for an additional earthy and spicy note. Per their suggestions, it's perfect with a California Sangiovese!
Pennyroyal Boont Corners Reserve Tomme - Boont Corners is the Boontling name for where Highways 128 and 253 meet, and it was the site of the original Boonville, California, which was called The Corners. The cheese is aged for 8-12 months and is reminiscent of a well-aged parmesan.
We hope you enjoy celebrating National Wine and Cheese Day this weekend with these Cal-Ital options. Stop by the winery to pick up the Cal-Ital 6-pack or order it in our online shop for delivery—while it lasts!
We have never shied away from a Taco Tuesday and with summer officially here, we're enjoying some lighter fare that mirrors the season: fresh and bright foods that dance on the tongue and make your mouth water. One of our favorite summertime tacos is the Fish Taco. The crispy fried fish wrapped in a warm, soft tortilla and topped with crunchy cabbage and a slightly spicy pico de gallo is a fun food friend to our wine of the month, the 2016 Fumé Blanc.
Not exactly familiar with Fumé Blanc? Fumé Blanc is made from sauvignon blanc but aged in oak for a period of time to soften some of the grassy aromas and flavors that sauvignon blanc offers. The Rubino Estates 2016 Fumé Blanc has a complex nose with vanilla and hints of citrus including oranges, orange blossom, and pomelo. A smooth texture is complemented by a rich and creamy mouthfeel and a soft acidity. Some exotic fruit comes through with flavors of mango and pineapple upside-down cake. A great wine on its own, a chilled glass of Fumé Blanc is a great pairing with this fish taco recipe from Sam Sifton of the New York Times.
Fish Tacos
Ingredients
2 medium tomatoes, seeded and finely chopped
1 small red onion, peeled and finely chopped
1 clove garlic, minced
½ cup roughly chopped cilantro
1 jalapeño, halved lengthwise, seeded and cut crosswise into half moons (optional)
¼ cup mayonnaise
½ cup sour cream
2 limes, 1 halved and 1 cut into wedges
Kosher salt
Freshly ground black pepper
1 tablespoon canned chipotle pepper, finely chopped (optional)
½ cup flour, preferably Wondra or other fine-milled flour
1 ½ teaspoons chili powder
½ cup milk
¼ cup peanut oil, plus a splash more for greasing pan
Pat of butter
1 pound flounder or any firm white-fleshed fish, cut across the grain of the flesh into strips about 1/2 inch wide by 3 inches long
12 6-inch fresh corn tortillas
2 cups shredded green cabbage
A saucy hot sauce, like Tapatio or Frank's
Directions
In a medium bowl, combine the tomatoes, onion, garlic, cilantro and jalapeño (if using).
In a small bowl, whisk the mayonnaise and sour cream until combined. Season to taste with the halved lime, salt, pepper and chipotle (if using).
In a medium bowl, mix together the flour, chili powder and 1 1/2 teaspoons each of kosher salt and black pepper. Pour the milk into another medium bowl, and place the fish into it.
Pour 1/4 cup of the peanut oil into a 12-inch frying pan and place over medium-high heat until it shimmers and is about to smoke. Remove the fish pieces from the milk bath and dredge them lightly through the flour mixture, shaking to remove excess. Add the butter to the pan. Place some fish pieces in the oil, without crowding them, and cook until deep golden brown on one side, 3 to 4 minutes. Turn carefully and cook for 1 minute more. Remove to a warmed, paper-towel-lined plate and sprinkle with salt. Repeat with the remaining fish.
Meanwhile, lightly grease a skillet with a drizzle of oil and set over medium heat. Heat the tortillas, one or two at a time, until they are soft and hot. Keep them warm, wrapped in a dish towel.
Fill each tortilla with 3 pieces of fish, browned side up, followed by tomato salsa and a pinch of cabbage. Drizzle with the cream sauce. Serve 2 to 3 tacos per person, with lime wedges and hot sauce on the side.
Add our wine of the month to your next shipping order. Enjoy complimentary shipping on 6 or more bottles!
Our Wine of the Month for May is the 2016 Rubino Estates Fumé Blanc. Handpicked in the cool of the morning, then strategically fermented in neutral barrels to provide a creamy mouthfeel and a subtle hint of spice. Our goal is to showcase the best of what the grapes have to offer. Our Fumé Blanc is aged in neutral oak for about 18 months before bottling to give the wine a gentle and cold fermentation that maximizes its delicate aromas and flavors. It offers a complex nose with vanilla and hints of citrus, including oranges, orange blossom, and pomelo. Gentle acidity adds balance to the smooth texture complemented by a rich and creamy mouthfeel. Some exotic fruit comes through with flavors of mango and pineapple upside-down cake. Served chilled, our Fumé Blanc is a perfect pairing for roasted chicken, fishcakes, grilled fish, salmon, and scallops. Speaking of scallops, below is a recipe to enjoy with the Fumé Blanc. Scallops are a favorite seafood treat and are not as hard to make as one might think. This simple recipe is perfect for a summery Sunday dinner. Pick up a bottle during curbside pick-up this weekend! We hope you enjoy it!
Scallops with Cream and Basil
INGREDIENTS
6 tablespoons butter
12 sea scallops
Salt and pepper
¼ cup chopped shallots
1 teaspoon slivered garlic
Pinch crushed red chili flakes
½ cup dry white wine
¾ cup heavy cream
20 basil leaves, cut in thin ribbons
DIRECTIONS
Put 4 tablespoons butter in a skillet over medium-high heat. When foam subsides, add scallops; sprinkle with salt and pepper. Brown on both sides, adjusting heat so they brown nicely; they need not cook through. Remove them to a plate.
Turn off heat, cool pan a bit, and wipe out. Add remaining butter over medium heat. When it melts, add shallots, garlic, chili flakes, and a little more salt and pepper. Cook about 2 minutes, or until shallots soften.
Add wine, raise the heat a bit, and let bubble away for a minute or so until reduced by about half; add cream and repeat. When the liquid is thick, return scallops and juices to pan.
Cook for about a minute, stirring in half the basil until scallops are just firm. Taste and adjust seasoning, transfer to small bowls or plates with a bit of sauce, garnish with remaining basil, and serve.
Our 2016 Rubino Estates Riserva Chardonnay has aromas of orange blossoms, peach, and pear with lingering flavors of vanilla and baking spices to give it a unique flair. Its full body is balanced by a light acidity, which makes it a perfect pairing for some of our favorite foods. On the blog, we're sharing a recipe from one of our favorite resources for tasty recipes, New York Times Cooking. This recipe for Chicken Breasts with Lemon comes together quickly and is perfect for those weekdays when you don't want to spend too much time in the kitchen. Club members will love this dish with the 2106 Riserva Chardonnay in their release, though we believe it is a perfect pairing with our 2017 Landmark Chardonnay as well! We hope you enjoy it!
Chicken Breasts with Lemon
Ingredients
½ cup flour for dredging
Salt and freshly ground pepper to taste
4 skinless boneless chicken breasts, about 6 ounces each
2 tablespoons olive oil
4 sprigs fresh thyme or 1 teaspoon dried
2 tablespoons finely chopped shallots
2 teaspoons finely chopped garlic
2 teaspoons grated lemon zest
3 tablespoons lemon juice
Directions
Season flour with salt and pepper, and dredge the chicken all over. Remove the excess flour.
Heat the oil in a heavy skillet large enough to hold the chicken pieces in one layer. Add chicken and cook, uncovered, over medium heat for 5 minutes or until lightly browned.
Flip the chicken and cook for 5 minutes more, or until cooked through. Carefully remove the oil from the skillet, leaving the chicken. Discard the oil.
Add the thyme, shallots, and garlic, and cook for about a minute. Do not burn the garlic. Add the lemon rind, the lemon juice, and the broth.
Scrape the skillet to dissolve the brown particles that cling to the bottom. Add the butter, and cook for 3 minutes longer. Serve immediately.
Michael Kraus for The New York Times
Saturday is National Moscato Day, and we thought we would share a little bit about this lovely aromatic grape. Moscato is the Italian word for the grape variety Muscat Blanc à Petits Grains, which originally hails from the island of Greece. Now, it is produced most famously in Italy under the name of Moscato d'Asti. The wine generally offers aromas and flavors of mandarin orange, ripe pear, sweet Meyer lemon, orange blossom, and honeysuckle. Our 2016 Rubino Moscato is light-bodied with bubbly effervescence, bright floral and tropical flavor, with a touch of sweetness balanced by lively acidity. It has a very expressive nose with high notes of orange, tangerine, orange blossom, cream, and poached pear. We love it on its own, but if you are looking for a new poolside drink, consider adding this Sparkling Moscato Sangria to your repertoire.
Sparkling Moscato Sangria
Sangria is one of the simplest drink recipes one can make. Just combine your favorite fruits with wine and a little bit of liqueur, and you are all set.
Ingredients
1 orange of your choosing, though our favorite this time of year is the Cara Cara
1 cup of halved strawberries
1/2 cup of raspberries
1/2 cup of blueberries
1/3 cup of orange liqueur such as Grand Marnier
12 oz of sparkling water such as San Pellegrino, chilled
1 bottle of 2016 Rubino Moscato, chilled
Directions
Combine all the ingredients in a large pitcher, stir together, and enjoy!