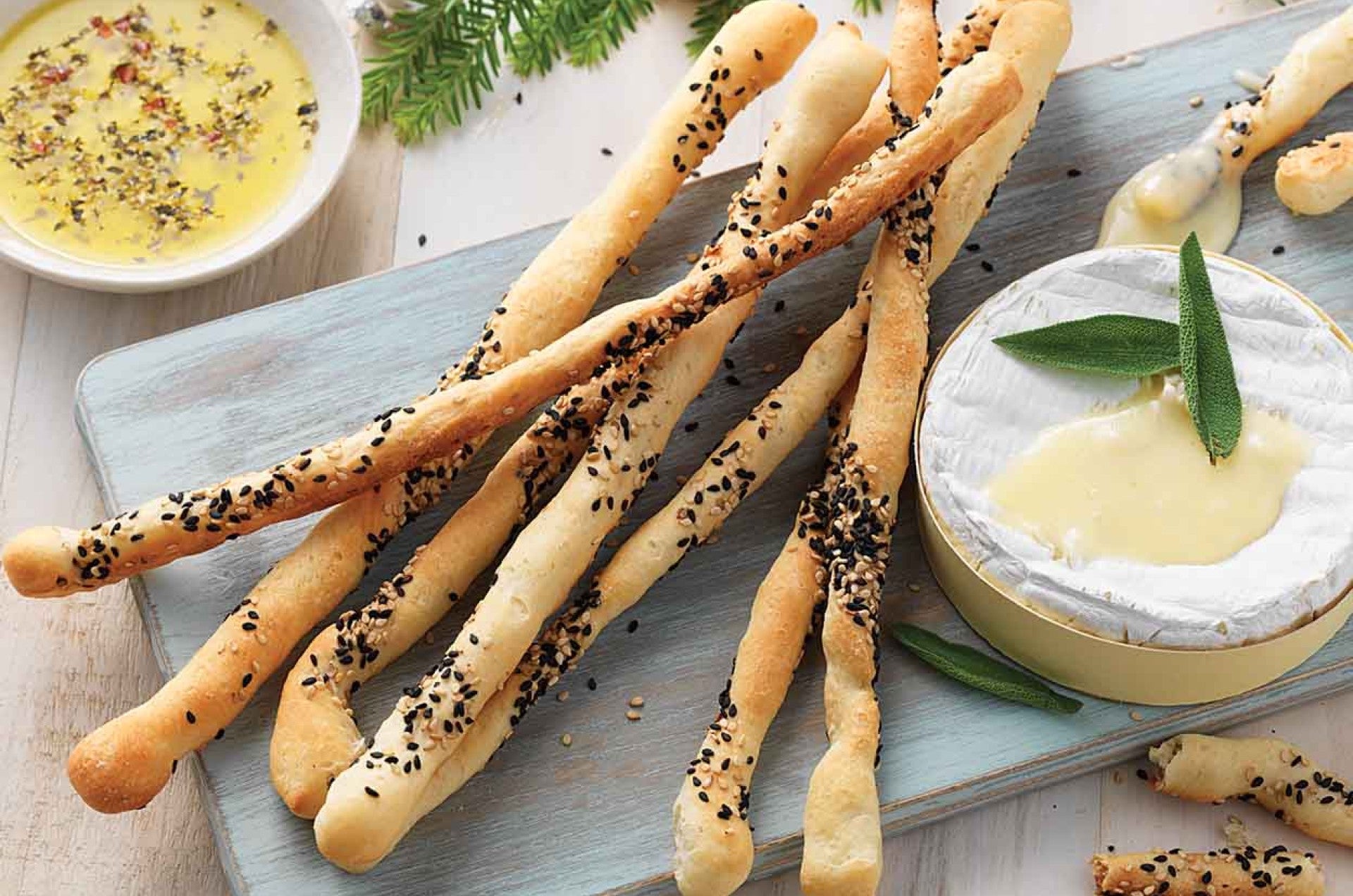 It's National...Breadstick Day? Who even knew there was such a thing! Bread and wine are natural partners in the food and wine world. And we know, from how much everyone loves to snack on the thin, crispy breadsticks at the tasting room, that there is something so irresistible about the snap of a thin breadstick while you sip on wine. We stumbled upon this simple breadstick recipe so that you can recreate your favorite tasting room snack at home.
Grissini is a style of breadstick that originated in the Piemonte region of Italy. They were invented to provide the young, sickly Duke Vittorio Amedeo II of Savoy something gentle to eat. A baker from the town of Turin decided to take some bread dough and stretch it out into long thin strips before firing them in the oven. And thus we have the Grissini.
The recipe calls for sesame seeds, but you can play around with other herbs. Consider using some of your favorite Italian seasonings like rosemary or thyme. Dip them in olive oil and enjoy with your favorite Rubino Estates wine!
Ingredients
Dough
2 teaspoons instant yeast
2 teaspoons sugar
1 1/4 teaspoons salt
1 tablespoon Pizza Dough Flavor (optional, but tasty)
1 tablespoon King Arthur Easy-Roll Dough Improver, Baker's Special Dry Milk, or nonfat dry milk
3 cups (396g) King Arthur Italian-Style Flour,
3/4 cup (170g) lukewarm water
2 tablespoons (25g) olive oil
Topping
1 egg white, beaten with 1 tablespoon cold water
1/3 cup (47g) sesame seeds, or a mixture of your favorite seeds
Directions
Mix and knead the dough ingredients — by hand, mixer, or bread machine set on the dough cycle — to make a soft, supple dough. Add one to two additional tablespoons of water if you are in a drier climate.
Divide the dough in half, cover with lightly greased plastic wrap, and let it rest and relax for 15 minutes (or for up to an hour or so; work it into your schedule as you see fit).
Working with one half of the dough at a time, pat or roll it into a 9" x 13" rectangle. Brush the dough lightly with the egg white and water, and sprinkle it with the seeds. Roll the dough lightly with a rolling pin to press the seeds in.
Use a pizza wheel or sharp knife to cut the dough (the short way) into strips about 3/8" wide. Twist the ends of each strip in opposite directions (as though you were wringing out a washcloth) to make a "twist," and place them on lightly greased or parchment-lined baking sheets.
Cover the breadsticks and let them rest and rise for 30 to 60 minutes, until they've puffed noticeably.
Towards the end of the rising time, preheat the oven to 425°F.
Bake the breadsticks for 12 to 14 minutes, or until they're golden brown. Remove them from the oven, and cool on a rack.