Be realistic. The best way to beat the odds when it comes to keeping your New Year's resolution is by starting with the right kind of goal. A goal that is too lofty leads to frustration and, in our experience, a rather uninspired February. Instead of resolving to, for example, never have sugar again, try to use your current habits as a starting point. Instead of a personal prohibition, aim for only a certain number of sweet snacks each week as a limit. Beginning with a single step may seem paltry, but it is actually the most effective way to keep your long-term goals in mind.
Be prepared for challenges. Making a good resolution may be a bit of a challenge, but keeping that resolution is much more so! It may help to make a list of the pros and cons you may encounter in keeping with your resolution. If you anticipate the most difficult moments, you are more prepared for them when they come.
Be consistent. When you set goals for the future, do not neglect the past. Though it is true that the last year has been especially trying for many, it has also been a good time to learn more about ourselves. Make sure you do some reflection on the lessons and little successes. We can even learn from the moments that felt like failures. By thinking about these experiences, we understand the things we really love to do and what fills the tank. This also gives you a moment to celebrate the past goals you have already met, which do wonders for feeling encouraged.
Be specific. In 1961, President JFK declared a short, specific goal: before the end of the decade, the US should send a man to the moon and return him safely to earth. Those who have analyzed this goal have found that the most vital elements were the clarity and the time-bound nature. Resolutions that follow the same model are the most likely to be fulfilled. For example, resolving to try 10 new dinner recipes in the next three months is much more effective than saying you want to cook more. True to the resolution, the Apollo 11 mission to the moon brought and returned 3 men in July of 1969.
Be aware of your motivation. Feeling burnt out and unmotivated is the enemy of resolutions. In order to run a marathon, both metaphorically and literally, you need to run on the right fuel. If your motivation for a certain goal is in spite or self-hate, the resolution will cause a deep lack of inspiration. When motivation comes from a deeper well of personal meaning, the fuel burns longer. Make sure your goals and values are in harmony, and let your values drive your progress!
Be forgiving. If you find yourself breaking your resolution consistently, you may be tempted to throw in the towel. We recommend revising instead of relenting. If your resolution proves to be unrealistic, give yourself time to figure out what the best new version may be. When you find yourself keeping to your promise, take a moment to reward yourself with something that doesn't contradict your resolution.
Be open about your goal. We need the support of friends more than ever when we are making positive change. Talking about your goal and what you are doing to achieve it will serve you well. Even if you have to talk over a Zoom call, try to connect with your friends. Ask them if they have any goals that you can help them achieve. Your goals may differ greatly, but you can still collaborate with and support one another.
If you have resolutions this year, we want to know! Tag us on social media @Rubinoestates
As you go through this year, no matter how big or small your goal is, we hope you are encouraged to enjoy 2021. Don't look past your successes--celebrate them! Perhaps put away some of your favorite Rubino Estates wines to celebrate your achievements at the end of this year. Don't hesitate to let the celebration begin now! It's the perfect time to set up your cellar for the year.
As 2020 winds down, we have found ourselves prompted to reflect on the wild year we've had. As of now, the vines are bare and the tasting room is empty, but our hearts are full. We are thankful to every member and patron who has supported us this year. Now, as we anticipate 2021, we're looking for cheery ways to say "addio!" To do this, we've collected up some stay-at-home friendly New Year's Eve traditions from cultures around the world, which is perfect for those of us who have missed travelling this year.
In Spain people eat a dozen grapes, one at each stroke of the bell at midnight, symbolizing their hopes for the months ahead. Since the tradition began in the late 1800s, it has become integral to the celebration of the New Year in Spain. Las doce uvas de la suerte, "The twelve grapes of luck" are often eaten around the table with one's family to usher in a year of luck.
In the Southern United States, many people lean into the lore that black-eyed peas bring good luck in the year to come. These legumes are often eaten in the form of a dish called Hoppin' John, which also incorporates rice and pork and is served over greens. Though the origins of this tradition are cloudy, the dish is thought to celebrate emancipation, endurance, and expanding wealth.
In Cuba, a roast suckling pig is the delicacy of choice to celebrate the New Year, since the richness and natural fattiness are said to represent the promise of plenty in the year to come. In other places where pigs represent prosperity, such as Germany, Austria, and Portugal, pork appears in New Year dishes in various forms.
In Japan it is common for people to write nenga or New Year's greetings to loved ones, similar to the western tradition of Christmas cards. As this tradition has modernized, these greetings are often written as postcards, and are called nenga-hagaki. These cards originated as early as the 5th century, and were meant as a substitute for face-to-face new year's greetings, which we think is perfect for this year.
Nordic Countries such as Sweden, Finland, and Norway, meanwhile, prepare some form of creamy spiced rice pudding with a single blanched almond hidden inside. This dish is served over the holidays, and it is said that whoever finds the nut in their dish can expect a year of good fortune. Some families also prepare a small prize for whoever is lucky enough to find the almond!
In Brazil, people traditionally wear white on New Year's eve to represent purity and peace. Our favorite tradition, though, is to drink Sparkling Wine to represent being energized throughout the next year! Since the beverage is made from grapes, Brazilian culture connects this bubbly treat to prosperity and life.
New York City captures the attention of the world on New Year's Eve by dropping of a giant ball in Times Square at the stroke of midnight. This tradition began in 1907 and has continued almost every year. As of 2020, the Ball (which is technically a "geodesic sphere") is 12 feet in diameter and weighs 11,875 pounds. This year, the event will be exclusively over live broadcast.
We hope we've given you some fun ideas for celebrating the end of this year. Now is the time to ask: what are you drinking New Year's Eve? We recommend a glass (or two) of your favorite Rubino Estates wine as you welcome the New Year in your own style.
'Twas the night before Christmas, and all through the house,
Not a creature was stirring, not even a mouse.
The racks in the cellar were stocked with great care
Awaiting rich pairings with holiday fare.
All children were nestled snug in their beds,
As their moms and dads dreampt of rosés and reds.
The Malbec in the cellar with the Pinot and Cab
Awaited a place in St. Nick's mailbag
When up above the cellar there rose such a clatter
The mice scurried away with a quick pitter-patter
And what to the wondering wines should appear
but the old man smiling with his usual cheer
His eyes—how they twinkled! his dimples, how merry!
His cheeks were like roses, his nose like a cherry!
He brushed off the cobwebs with soot-tarnished hands
And chose wines to take to all far-off lands.
A Dolcetto for Gepetto in rural Tuscany
A Barbera for Barbara in big NYC
Ferrario for Frederick in Florida so warm
And Port for the sailors caught in a storm
And as he gazed at those favored Rubino wines,
He looked at his list, smiled, and siged,
Oh Moscato, Oh Magnums, Oh Tuscano, Oh Brut!
Plus Amuleto and Night Owl, to give on my route!
Bottles in hand, he made way to his sleigh,
The reindeer were ready to be on their way.
He arranged the cargo and cleared out a section
For Proprietary Red and the Landmark collection.
He sprang to his sleigh, to his team gave a whistle,
And away they all flew like the down of a thistle.
But I heard him exclaim as he drove out of sight—
"Buon Natale to all, and to all a good night!"
Happy holidays from all of us at Rubino Estates Winery!
Poem based on "A Visit from St. Nicholas" by Clement Clarke Moore

As a holiday treat, you can purchase a case of our Dolcetto for only $99! Available for a limited time.
It's the time of year again when celebrations merit a few bottles of bubbly! Even if your celebrations are small, the "pop" of a cork is enough to make spirits bright.
It's not uncommon to be anxious about opening a bottle of sparkling wine. Because of the carbonation, the wine inside the bottle is under a significant amount of pressure. We'll admit to enjoying humorous stories of champagne opening gone wrong, but we'd rather spare you from that fate. Our Brut need not make you nervous! Below, we've compiled some basic tips and instructions to allow you to unleash your bubbles with confidence.
First, we recommend chilling your sparkling wine for several hours in the fridge. Chilled sparkling is a better experience all around, and it also reduces the odds of unwanted explosions. A regular refrigerator will do the trick if you do not have a wine fridge. You can even place the bottle in a bucket of 50% ice and 50% water to achieve a thorough chill.
When you are ready to open your sparkling, remove it from the refrigerator, being careful not to shake it too much. Just like other carbonated beverages, agitating the bubbles is a recipe for overflow. Remove the foil from the top of the bottle using the tab, if provided, or a foil knife. Next, with your thumb on top of the cork just in case, remove the cork cage (the wire around the cork).
Now you are ready for the fun part! Tilt your bottle at a 45 degree angle, pointed away from others and from yourself. Hold the cork firmly in one hand and carefully begin to twist the bottle (not the cork) until the cork comes loose with that "pop" sound you've been looking forward to. Treasure that elegant bit of steam and fizz at the top of the bottle, and pour out to your heart's content. It's time to celebrate--you've earned it!
If these steps seem too simple or mundane for you, perhaps you would like to explore the impressive art of sabrage, in which a sword is used to open a bottle of bubbly in fantastically dramatic fashion. We're quick to say "don't try this at home!" but if you want to know more and see it in action, feel free to check out this video from Alton Brown.
Charles Dickens once wrote, "Champagne is simply one of the elegant extras in life." You may find yourself enjoying some unprecedented small-idays this year, so we believe that the elegance and festivity of a bottle of Brut helps to make these moments special. We hope that we've inspired you to break out your bubbles with boldness! There's no better way to practice than experience, so now's a perfect time to take advantage of our Brut sale. For a limited time, our sparkling Brut is on sale for only $16 per bottle, with additional discounts available for members and case purchases. You can place your order online now!
Mark Perakis, one of our tasting room associates, shared this recipe with us and we've been drooling over it ever since. When it comes to cooking with wine, we here at Rubino Estates believe that the best wine to put in a dish is a wine that pairs well with a dish. This hearty Beef Bourguignon is superbly complimented by the richness of our Ferrario, but would also be enhanced by any of our robust Italian reds.
Beef Bourguignon di Rubino
Marinade:
2 large carrots, cut on the diagonal in ½" pieces
1 large onion, diced
1 stalk of celery, cut into ½" pieces
1 bouquet garni
10 black peppercorns
½ cup brandy
1 bottle Rubino Estates Ferrario
Stew:
3 lb. beef chuck roast, trimmed and cut into 1" cubes
2 tablespoons cooking oil
6 oz. thick cut bacon, cut cross wise into ¼" slices
4 cloves garlic, chopped
1 tablespoon tomato paste
2 tablespoons flour
1 ½ cups beef stock
24 pearl onions
1 tablespoon unsalted butter
2 teaspoons sugar
5 oz. mushrooms, quartered
Place the marinade ingredients in a bowl with the cubes of beef. Cover and refrigerate overnight.
Strain the marinade into a sauce pan. Remove the beef to a paper towel lined tray. Place the vegetables and bouquet garni aside. Bring the marinade to a boil and cook for 10 minutes. Skim off impurities from the liquid.
Preheat the oven to 325F. In a flameproof casserole with a tightfitting lid, fry the bacon in oil until crispy on medium heat. Remove the bacon and set aside. Pat the meat dry and brown in the bacon fat in small batches--do not crowd the pan. Once browned, set the meat aside and pour off the bacon fat.
Saute the vegetables until softened. Add the garlic and tomato paste and cook for 2 minutes. Add the flour and blend with the vegetables. Carefully pour the boiled marinating liquid to the casserole and bring to a boil, stirring constantly.
Add the meat and bacon to the casserole. Add the beef stock and boquet garni, bringing the liquid level to the top of the meat. Cover the casserole dish and bake in the oven 1 hour and 30 minutes, or until the meat is tender.
Meanwhile, place the onions, butter, sugar, and salt in a deep skillet and add water to cover the onions. Cook the onions over medium heat until the water is nearly evaporated. Swirl the skillet until the onions are golden, then set aside. Fry up the mushrooms in butter and add to the onions.
Once the beef is cooked, skim off any excess fat. Add the cooked onions and mushrooms. Sprinkle with chopped parsley, and serve.
Recipe Courtesy of Mark Perakis
This classic French dish celebrates simplicity and comfort. You may choose to serve it over the traditional boiled potatoes, or enhance the Italian flair by serving it over gourmet pasta. Mark additionally recommends garlic bread and caesar salad as accompaniment.
Julia Child said of Beef Bourguignon, "carefully done, and perfectly flavored, it is certainly one of the most delicious beef dishes concocted by man." We hope you agree! For any friends of Rubino who prefer a plant based version of this dish, we think this Mushroom Bourguignon recipe would be beautifully elevated by our Riserva Cabernet Sauvignon.
We hope that this helps you find comfort and joy around the table this holiday season. Salute!
Rubino Estates is open for curbside pick-up every Saturday and Sunday from 12:00pm-4:00pm to supply your wine cellar and cooking needs!
As the year is winding down, we are getting into the spirit of the season by brainstorming gift ideas for all our loved ones. We've already bought our favorite wines--so what else can we get? Here's a few options!
Wine bottle candles, like the ones shown above, are an elegant gift. Not only do they display your favorite labels, their timeless scents and flickering ambience also make a lovely addition to any home.

You could also treat your loved one to an engraved laguiole corkscrew. Beautiful and functional, this customized piece puts a personal touch on a classy gift for wine loving friends and family.

For the pairing afficionado, consider an initialed cheese board. Non only are these boards gorgeous, but you can remind your friend that you go together just as well as wine and cheese. To show some extra love, you could even include a wedge of BellaVitano cheese or an aged gruyere.

Support a small buisiness on Etsy by purchasing a custom wine bottle design. Make one for your family to give away on you favorite bottle of vino (talk about a great Christmas Card!) or customize one for a special friend!

Life is unpredictable, and you never know when a red wine might put a perfect outfit or tablecloth out of commission. Our favorite product to combat red wine disasters is Wine Away, which is bleach-free and safe on most fabrics. Even better, it helps resolve other organic stains as well. Wine Away is a life-saver!

Lastly, we recommend these cute copper wine charms. Like jewelry for your wine glass, they can jazz up any experience. You can feel cheerful and festive with these accessories, even when staying home!
We hope that this has helped you dream up perfect gifts for the loved ones in your life (or even for yourself; we'll never tell). Gifts like these and more are available at the Rubino Estates Tasting room--and for a limited time, we are offering an additional 20% off all retail items so you can check off every person on your list.
Wishing you warm tidings and good cheer!
There's no doubt that fall is officially here. Between the cooler temperatures and the rainy days, we're feeling the urge to cuddle up beneath the blankets to keep warm. But we're still at the winery, offering outdoor tastings on our covered and heated patios, and still doing a little bit of work in the vineyard.
Post-harvest, we give everything some fertilizer and water until the leaves start to fall off. This keeps the vines healthy and ensures a robust budbreak in the spring. If you remember, earlier this year, we planted two new vineyard blocks of Malbec and Merlot, and they've grown enough that we were able to put trellises in place for them. We might see a small amount of fruit from the new vines in 2021, but it will most likely be the harvest in 2022, where we'll see fruit that is mature enough to bottle.
Other than that, we're just taking in the beautiful sight of the leaves changing color. Here are little more images of the vineyard on a lovely, foggy morning.
The year has flown by. It's hard to believe it's already time for the holiday season. While our tables might be smaller this year, many of us are still longing to find ways to celebrate the little things and express our gratitude for our family and friends. And what holiday meal is complete without a few bottles of tasty wine on the table?
As you begin to finalize your holiday menu, don't forget about the wine! Now is the time to start thinking about what wines you will enjoy while filling up on your favorite Thanksgiving Day foods. One of the great things about the traditional foods served at Thanksgiving is that they are incredibly easy to pair with wine. But in case you're stuck, we're sharing a few of our favorites at Rubino Estates that will be delightful pairings with your meals.
Thanksgiving Day Pairings
Light bodied, bubbly effervescence. Moderate sweetness and acidity. This wine has flavors of pear, fresh pineapple, green apple with notes of coconut on the finish.
We love to start the day off with sparkling wine. The bubbles wake up the palate and also help cleanse the palate between bites of rich foods.
The aroma is dominated by vanilla, caramel, butterscotch, and lemon tart. The mouthfeel is creamy and full, with hints of butter and toasted marshmallows. Big bodied with a long finish.
What better to pair with creamy, buttery mashed potatoes than our Landmark Chardonnay. The rich mouthfeel of this wine is a perfect match for a plateful of rich mashed potatoes.
This wine has a very elegant nose, with aromas of vanilla, cherry pie, and spice. Fruit forward with flavors of blackberry and plum. Has a big mouthfeel and a long, lasting finish. Just a hint of oak helps frame the flavors.
The cherry pie and spice notes will be quite tasty with cranberry sauces and fruit-based glazes for your duck, turkey, or ham.
A very aromatic nose with hints of plum, golden crisp apple, and baking spices. The palate follows through with the addition of black pepper and cranberry flavors. Very plush mouthfeel with soft tannins and a hint of vanilla on the finish.
Pinot Noir is one of our favorite wines to drink with turkey. It has just enough tannin to hold up to turkey and gravy without overpowering each bite.
Ready for Thanksgiving, but want to add a little more ease to your holiday? The culinary team at the Palm Event Center and Casa Real created an exceptional holiday take-home dinner! For just $160, you will receive a turkey breast with traditional gravy, orange-cranberry compote, butter-whipped potatoes with chives, sweet potato casserole, parker house rolls, and so much more! You can add your favorite Rubino Estates wines to your order as well. Email info@beetshospitality.com with any other questions or click here to order.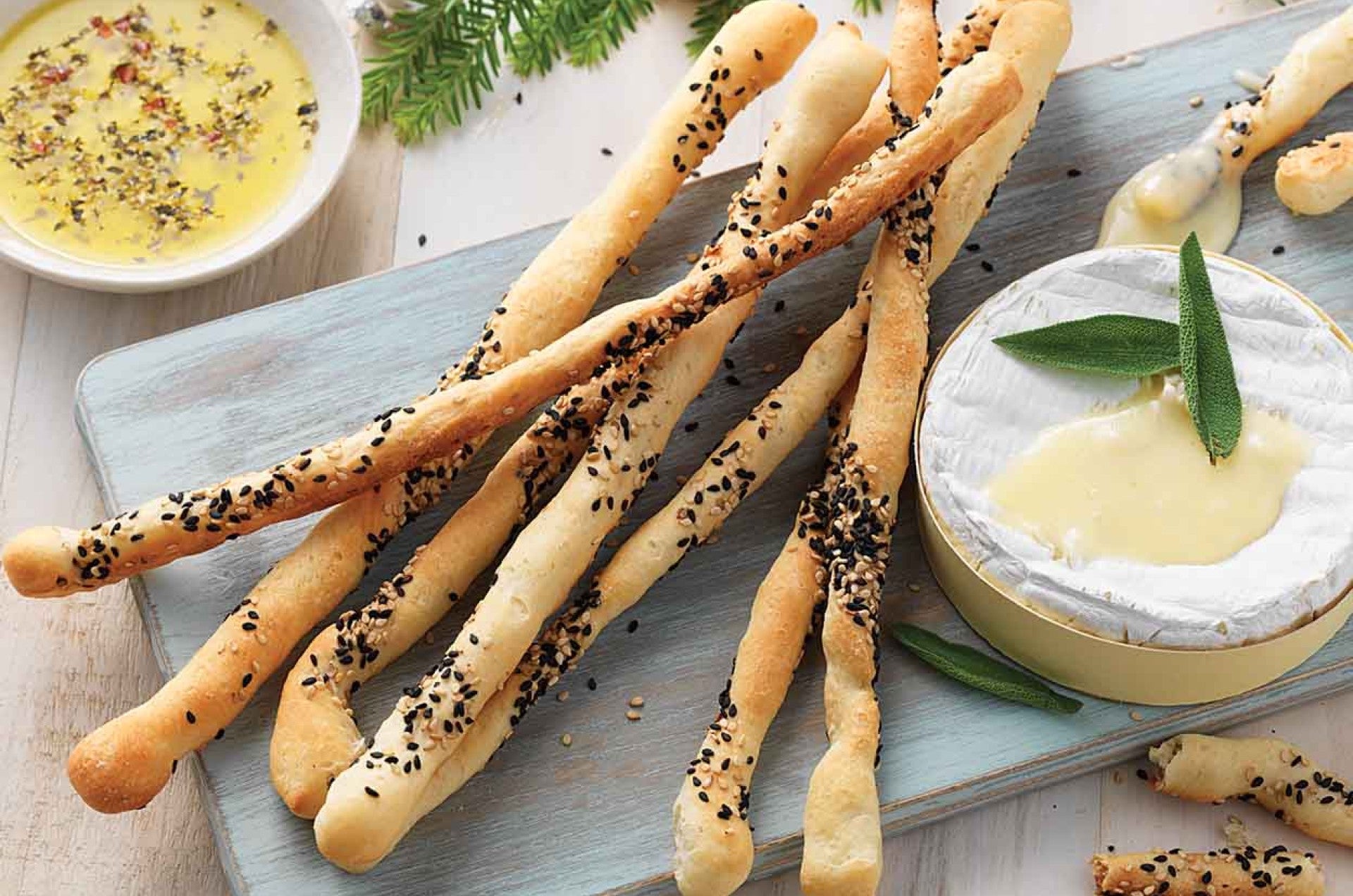 It's National...Breadstick Day? Who even knew there was such a thing! Bread and wine are natural partners in the food and wine world. And we know, from how much everyone loves to snack on the thin, crispy breadsticks at the tasting room, that there is something so irresistible about the snap of a thin breadstick while you sip on wine. We stumbled upon this simple breadstick recipe so that you can recreate your favorite tasting room snack at home.
Grissini is a style of breadstick that originated in the Piemonte region of Italy. They were invented to provide the young, sickly Duke Vittorio Amedeo II of Savoy something gentle to eat. A baker from the town of Turin decided to take some bread dough and stretch it out into long thin strips before firing them in the oven. And thus we have the Grissini.
The recipe calls for sesame seeds, but you can play around with other herbs. Consider using some of your favorite Italian seasonings like rosemary or thyme. Dip them in olive oil and enjoy with your favorite Rubino Estates wine!
Ingredients
Dough
2 teaspoons instant yeast
2 teaspoons sugar
1 1/4 teaspoons salt
1 tablespoon Pizza Dough Flavor (optional, but tasty)
1 tablespoon King Arthur Easy-Roll Dough Improver, Baker's Special Dry Milk, or nonfat dry milk
3 cups (396g) King Arthur Italian-Style Flour,
3/4 cup (170g) lukewarm water
2 tablespoons (25g) olive oil
Topping
1 egg white, beaten with 1 tablespoon cold water
1/3 cup (47g) sesame seeds, or a mixture of your favorite seeds
Directions
Mix and knead the dough ingredients — by hand, mixer, or bread machine set on the dough cycle — to make a soft, supple dough. Add one to two additional tablespoons of water if you are in a drier climate.
Divide the dough in half, cover with lightly greased plastic wrap, and let it rest and relax for 15 minutes (or for up to an hour or so; work it into your schedule as you see fit).
Working with one half of the dough at a time, pat or roll it into a 9" x 13" rectangle. Brush the dough lightly with the egg white and water, and sprinkle it with the seeds. Roll the dough lightly with a rolling pin to press the seeds in.
Use a pizza wheel or sharp knife to cut the dough (the short way) into strips about 3/8" wide. Twist the ends of each strip in opposite directions (as though you were wringing out a washcloth) to make a "twist," and place them on lightly greased or parchment-lined baking sheets.
Cover the breadsticks and let them rest and rise for 30 to 60 minutes, until they've puffed noticeably.
Towards the end of the rising time, preheat the oven to 425°F.
Bake the breadsticks for 12 to 14 minutes, or until they're golden brown. Remove them from the oven, and cool on a rack.
Halloween is coming up, and while it may look different than years before, there's a chance you may still have a little gathering with family and friends. The kids will be stuffing their mouths with candy, but what about another adult-friendly alternative? It's not quite cold enough for mulled wine, but we love a good sangria, and we think this recipe for Honeycrisp Apple Sangria by Sally's Baking Addiction is a great fall-inspired drink to sip on while gathering around the fire. Double the recipe for a large group! We suggest using the 2016 Rubino Estates Amuleto for its hints of spice and cranberries.
Honeycrisp Apple Sangria
Ingredients
3 cinnamon sticks (plus more for garnish)
2 Honeycrisp apples, chopped
1 orange, thinly sliced
1 (750 ml) bottle 2016 Rubino Estates Amuleto
1 and 3/4 cups homemade apple cider or store-bought*
1/2 cup brandy
1/4 cup orange juice (or juice from 2 medium oranges)
juice from 1 lemon
club soda, to taste
Directions
​Place the cinnamon sticks, apples, and orange slices in a large pitcher. Add wine, apple cider, brandy, orange juice, and lemon juice. Allow to sit in the refrigerator for 6 – 24 hours. Taste; if you'd like it to be sweeter, add 1-2 Tablespoons granulated sugar, honey, or agave.
If you'd like a cinnamon-sugar rim (highly recommended), simply moisten the rim of your glasses with water, turn the glass upside down and dip it into a mix of cinnamon and sugar. Pour in the sangria with fruit* and add a splash of club soda (this unsweetened fizz is wonderful with the sangria!). Garnish with a cinnamon stick, if desired. Cheers!
Ready to make this delightful fall drink for your next family gathering? Stop by the tasting room and take advantage of the last few magnums of 2016 Amuleto!