Mark Perakis, one of our tasting room associates, shared this recipe with us and we've been drooling over it ever since. When it comes to cooking with wine, we here at Rubino Estates believe that the best wine to put in a dish is a wine that pairs well with a dish. This hearty Beef Bourguignon is superbly complimented by the richness of our Ferrario, but would also be enhanced by any of our robust Italian reds.
Beef Bourguignon di Rubino
Marinade:
2 large carrots, cut on the diagonal in ½" pieces
1 large onion, diced
1 stalk of celery, cut into ½" pieces
1 bouquet garni
10 black peppercorns
½ cup brandy
1 bottle Rubino Estates Ferrario
Stew:
3 lb. beef chuck roast, trimmed and cut into 1" cubes
2 tablespoons cooking oil
6 oz. thick cut bacon, cut cross wise into ¼" slices
4 cloves garlic, chopped
1 tablespoon tomato paste
2 tablespoons flour
1 ½ cups beef stock
24 pearl onions
1 tablespoon unsalted butter
2 teaspoons sugar
5 oz. mushrooms, quartered
Place the marinade ingredients in a bowl with the cubes of beef. Cover and refrigerate overnight.
Strain the marinade into a sauce pan. Remove the beef to a paper towel lined tray. Place the vegetables and bouquet garni aside. Bring the marinade to a boil and cook for 10 minutes. Skim off impurities from the liquid.
Preheat the oven to 325F. In a flameproof casserole with a tightfitting lid, fry the bacon in oil until crispy on medium heat. Remove the bacon and set aside. Pat the meat dry and brown in the bacon fat in small batches--do not crowd the pan. Once browned, set the meat aside and pour off the bacon fat.
Saute the vegetables until softened. Add the garlic and tomato paste and cook for 2 minutes. Add the flour and blend with the vegetables. Carefully pour the boiled marinating liquid to the casserole and bring to a boil, stirring constantly.
Add the meat and bacon to the casserole. Add the beef stock and boquet garni, bringing the liquid level to the top of the meat. Cover the casserole dish and bake in the oven 1 hour and 30 minutes, or until the meat is tender.
Meanwhile, place the onions, butter, sugar, and salt in a deep skillet and add water to cover the onions. Cook the onions over medium heat until the water is nearly evaporated. Swirl the skillet until the onions are golden, then set aside. Fry up the mushrooms in butter and add to the onions.
Once the beef is cooked, skim off any excess fat. Add the cooked onions and mushrooms. Sprinkle with chopped parsley, and serve.
Recipe Courtesy of Mark Perakis
This classic French dish celebrates simplicity and comfort. You may choose to serve it over the traditional boiled potatoes, or enhance the Italian flair by serving it over gourmet pasta. Mark additionally recommends garlic bread and caesar salad as accompaniment.
Julia Child said of Beef Bourguignon, "carefully done, and perfectly flavored, it is certainly one of the most delicious beef dishes concocted by man." We hope you agree! For any friends of Rubino who prefer a plant based version of this dish, we think this Mushroom Bourguignon recipe would be beautifully elevated by our Riserva Cabernet Sauvignon.
We hope that this helps you find comfort and joy around the table this holiday season. Salute!
Rubino Estates is open for curbside pick-up every Saturday and Sunday from 12:00pm-4:00pm to supply your wine cellar and cooking needs!
As the year is winding down, we are getting into the spirit of the season by brainstorming gift ideas for all our loved ones. We've already bought our favorite wines--so what else can we get? Here's a few options!
Wine bottle candles, like the ones shown above, are an elegant gift. Not only do they display your favorite labels, their timeless scents and flickering ambience also make a lovely addition to any home.

You could also treat your loved one to an engraved laguiole corkscrew. Beautiful and functional, this customized piece puts a personal touch on a classy gift for wine loving friends and family.

For the pairing afficionado, consider an initialed cheese board. Non only are these boards gorgeous, but you can remind your friend that you go together just as well as wine and cheese. To show some extra love, you could even include a wedge of BellaVitano cheese or an aged gruyere.

Support a small buisiness on Etsy by purchasing a custom wine bottle design. Make one for your family to give away on you favorite bottle of vino (talk about a great Christmas Card!) or customize one for a special friend!

Life is unpredictable, and you never know when a red wine might put a perfect outfit or tablecloth out of commission. Our favorite product to combat red wine disasters is Wine Away, which is bleach-free and safe on most fabrics. Even better, it helps resolve other organic stains as well. Wine Away is a life-saver!

Lastly, we recommend these cute copper wine charms. Like jewelry for your wine glass, they can jazz up any experience. You can feel cheerful and festive with these accessories, even when staying home!
We hope that this has helped you dream up perfect gifts for the loved ones in your life (or even for yourself; we'll never tell). Gifts like these and more are available at the Rubino Estates Tasting room--and for a limited time, we are offering an additional 20% off all retail items so you can check off every person on your list.
Wishing you warm tidings and good cheer!
There's no doubt that fall is officially here. Between the cooler temperatures and the rainy days, we're feeling the urge to cuddle up beneath the blankets to keep warm. But we're still at the winery, offering outdoor tastings on our covered and heated patios, and still doing a little bit of work in the vineyard.
Post-harvest, we give everything some fertilizer and water until the leaves start to fall off. This keeps the vines healthy and ensures a robust budbreak in the spring. If you remember, earlier this year, we planted two new vineyard blocks of Malbec and Merlot, and they've grown enough that we were able to put trellises in place for them. We might see a small amount of fruit from the new vines in 2021, but it will most likely be the harvest in 2022, where we'll see fruit that is mature enough to bottle.
Other than that, we're just taking in the beautiful sight of the leaves changing color. Here are little more images of the vineyard on a lovely, foggy morning.
The year has flown by. It's hard to believe it's already time for the holiday season. While our tables might be smaller this year, many of us are still longing to find ways to celebrate the little things and express our gratitude for our family and friends. And what holiday meal is complete without a few bottles of tasty wine on the table?
As you begin to finalize your holiday menu, don't forget about the wine! Now is the time to start thinking about what wines you will enjoy while filling up on your favorite Thanksgiving Day foods. One of the great things about the traditional foods served at Thanksgiving is that they are incredibly easy to pair with wine. But in case you're stuck, we're sharing a few of our favorites at Rubino Estates that will be delightful pairings with your meals.
Thanksgiving Day Pairings
Light bodied, bubbly effervescence. Moderate sweetness and acidity. This wine has flavors of pear, fresh pineapple, green apple with notes of coconut on the finish.
We love to start the day off with sparkling wine. The bubbles wake up the palate and also help cleanse the palate between bites of rich foods.
The aroma is dominated by vanilla, caramel, butterscotch, and lemon tart. The mouthfeel is creamy and full, with hints of butter and toasted marshmallows. Big bodied with a long finish.
What better to pair with creamy, buttery mashed potatoes than our Landmark Chardonnay. The rich mouthfeel of this wine is a perfect match for a plateful of rich mashed potatoes.
This wine has a very elegant nose, with aromas of vanilla, cherry pie, and spice. Fruit forward with flavors of blackberry and plum. Has a big mouthfeel and a long, lasting finish. Just a hint of oak helps frame the flavors.
The cherry pie and spice notes will be quite tasty with cranberry sauces and fruit-based glazes for your duck, turkey, or ham.
A very aromatic nose with hints of plum, golden crisp apple, and baking spices. The palate follows through with the addition of black pepper and cranberry flavors. Very plush mouthfeel with soft tannins and a hint of vanilla on the finish.
Pinot Noir is one of our favorite wines to drink with turkey. It has just enough tannin to hold up to turkey and gravy without overpowering each bite.
Ready for Thanksgiving, but want to add a little more ease to your holiday? The culinary team at the Palm Event Center and Casa Real created an exceptional holiday take-home dinner! For just $160, you will receive a turkey breast with traditional gravy, orange-cranberry compote, butter-whipped potatoes with chives, sweet potato casserole, parker house rolls, and so much more! You can add your favorite Rubino Estates wines to your order as well. Email info@beetshospitality.com with any other questions or click here to order.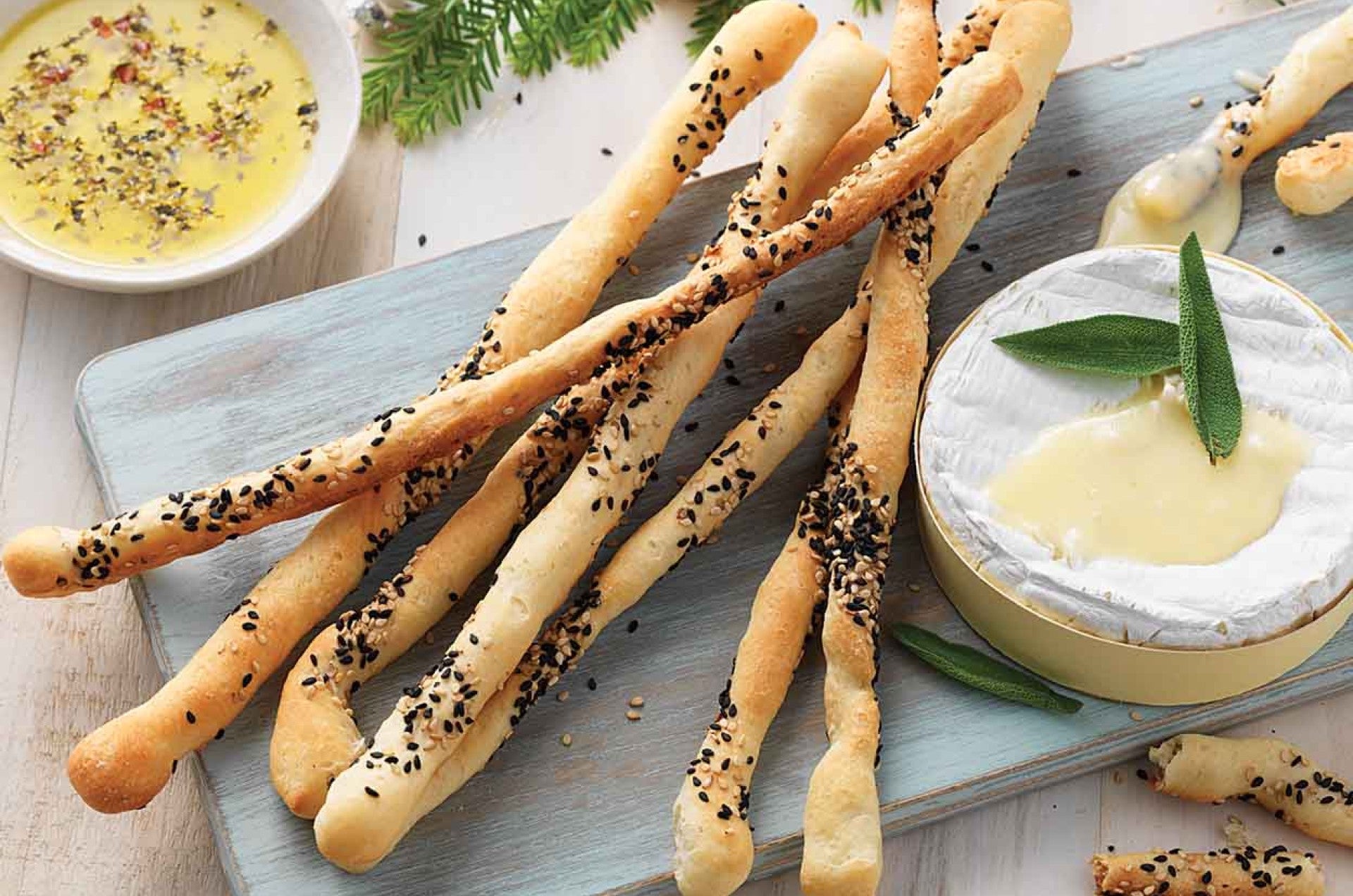 It's National...Breadstick Day? Who even knew there was such a thing! Bread and wine are natural partners in the food and wine world. And we know, from how much everyone loves to snack on the thin, crispy breadsticks at the tasting room, that there is something so irresistible about the snap of a thin breadstick while you sip on wine. We stumbled upon this simple breadstick recipe so that you can recreate your favorite tasting room snack at home.
Grissini is a style of breadstick that originated in the Piemonte region of Italy. They were invented to provide the young, sickly Duke Vittorio Amedeo II of Savoy something gentle to eat. A baker from the town of Turin decided to take some bread dough and stretch it out into long thin strips before firing them in the oven. And thus we have the Grissini.
The recipe calls for sesame seeds, but you can play around with other herbs. Consider using some of your favorite Italian seasonings like rosemary or thyme. Dip them in olive oil and enjoy with your favorite Rubino Estates wine!
Ingredients
Dough
2 teaspoons instant yeast
2 teaspoons sugar
1 1/4 teaspoons salt
1 tablespoon Pizza Dough Flavor (optional, but tasty)
1 tablespoon King Arthur Easy-Roll Dough Improver, Baker's Special Dry Milk, or nonfat dry milk
3 cups (396g) King Arthur Italian-Style Flour,
3/4 cup (170g) lukewarm water
2 tablespoons (25g) olive oil
Topping
1 egg white, beaten with 1 tablespoon cold water
1/3 cup (47g) sesame seeds, or a mixture of your favorite seeds
Directions
Mix and knead the dough ingredients — by hand, mixer, or bread machine set on the dough cycle — to make a soft, supple dough. Add one to two additional tablespoons of water if you are in a drier climate.
Divide the dough in half, cover with lightly greased plastic wrap, and let it rest and relax for 15 minutes (or for up to an hour or so; work it into your schedule as you see fit).
Working with one half of the dough at a time, pat or roll it into a 9" x 13" rectangle. Brush the dough lightly with the egg white and water, and sprinkle it with the seeds. Roll the dough lightly with a rolling pin to press the seeds in.
Use a pizza wheel or sharp knife to cut the dough (the short way) into strips about 3/8" wide. Twist the ends of each strip in opposite directions (as though you were wringing out a washcloth) to make a "twist," and place them on lightly greased or parchment-lined baking sheets.
Cover the breadsticks and let them rest and rise for 30 to 60 minutes, until they've puffed noticeably.
Towards the end of the rising time, preheat the oven to 425°F.
Bake the breadsticks for 12 to 14 minutes, or until they're golden brown. Remove them from the oven, and cool on a rack.
Halloween is coming up, and while it may look different than years before, there's a chance you may still have a little gathering with family and friends. The kids will be stuffing their mouths with candy, but what about another adult-friendly alternative? It's not quite cold enough for mulled wine, but we love a good sangria, and we think this recipe for Honeycrisp Apple Sangria by Sally's Baking Addiction is a great fall-inspired drink to sip on while gathering around the fire. Double the recipe for a large group! We suggest using the 2016 Rubino Estates Amuleto for its hints of spice and cranberries.
Honeycrisp Apple Sangria
Ingredients
3 cinnamon sticks (plus more for garnish)
2 Honeycrisp apples, chopped
1 orange, thinly sliced
1 (750 ml) bottle 2016 Rubino Estates Amuleto
1 and 3/4 cups homemade apple cider or store-bought*
1/2 cup brandy
1/4 cup orange juice (or juice from 2 medium oranges)
juice from 1 lemon
club soda, to taste
Directions
​Place the cinnamon sticks, apples, and orange slices in a large pitcher. Add wine, apple cider, brandy, orange juice, and lemon juice. Allow to sit in the refrigerator for 6 – 24 hours. Taste; if you'd like it to be sweeter, add 1-2 Tablespoons granulated sugar, honey, or agave.
If you'd like a cinnamon-sugar rim (highly recommended), simply moisten the rim of your glasses with water, turn the glass upside down and dip it into a mix of cinnamon and sugar. Pour in the sangria with fruit* and add a splash of club soda (this unsweetened fizz is wonderful with the sangria!). Garnish with a cinnamon stick, if desired. Cheers!
Ready to make this delightful fall drink for your next family gathering? Stop by the tasting room and take advantage of the last few magnums of 2016 Amuleto!

At Rubino Estates, our Italian heritage and tradition honors the second property owner, Ernest Ferrario, and the rich history of Italian immigrants in the Livermore Valley. Ernest Ferrario was an Italian immigrant who moved to California to work on the railroads in San Rafael. Accustomed to the delicious wines in Italy, Ferrario decided to break into the wine business and purchase the Ruby Hill Property from John Crellin in 1921. Ferrario developed the land into a magnificent vineyard and established an admirable reputation as a Winemaker. Today, we carry on his legacy in our commitment to producing wines of distinction from Italian varietals. Wines like our Primitivo, Riserva Sangiovese, and Night Owl Barbera are delicious wines made in California, inspired by Italian fine wines.
Saturday is National Pasta Day, and we can't wait to dig into a big bowl of gnocchi. Here is a round-up of some of our favorite Italian restaurants in the Tri-Valley offering dining and take-out options so you can celebrate National Pasta Day, too. Come in for an afternoon tasting at Rubino and then head out for a lovely dinner to pair with your favorite Rubino Estates wine!
Celebrate National Pasta Day at These Tri-Valley Favorites
Incontro is the perfect place to gather with family and friends. The inspiration for the name came from their desire to create a place to encounter diverse cuisines from all of Italy's regions.
Located in the heart of downtown Pleasanton, Barone's Restaurant offers seasonal menus and innovative cuisine.
Bringing together their Argentinian roots, Italian heritage, and Northern California location, Brava Garden Eatery features a selection of fresh-made pasta and locally-sourced ingredients.
Chef and co-owner Bilarddi Carteli was trained in Italy and prepares their daily off-the-menu classic Italian specials using only the freshest ingredients.
Classic Italian fare in a fun and friendly environment. It's the perfect place to gather with family and friends.
Located in scenic downtown Pleasanton, Pastas Trattoria has the best views of downtown. Enjoy one of the delicious flatbreads or specialty entrees.
Staying in this weekend? Tag us on social @rubinoestates and let us know what pasta you made and which Rubino wine you're enjoying with it!
It's October, and that means soup season is upon us! After the rush of harvest, it's nice to have easy meals on hand so that the weekends really feel like a weekend. We like to make a double batch to have plenty of leftovers to enjoy as lunch for the week or to freeze for another rainy day.
Corn Chowder is one of our favorites. Take some of the last Brentwood Sweet Corn of the season, add potatoes, and maybe a little bacon, and you're all set. What we love about this recipe is that you also make your own corn stock for the soup! We were surprised by the depth of flavor the corn stock added. Add a little cream at the end for a little richness and enjoy with a glass of the 2016 Rubino Estates Riserva Chardonnay. It's rich, smooth texture and pleasant acidity make it a perfect wine for your favorite fall soups!
Basic Corn Chowder via New York Times Cooking

Ingredients
4 to 6 ears of corn
1 tablespoon butter or neutral oil, like canola or grapeseed
1 medium onion, chopped
2 medium potatoes, peeled and diced
Salt and freshly ground black pepper
2 tomatoes, cored, seeded and chopped (optional)
1 cup whole or low-fat milk
½ cup chopped parsley (optional)
Directions
Shuck corn, and use a paring knife to strip kernels into a bowl. Put cobs in a pot with 4 cups water; bring to a boil, cover and simmer while you continue.
Put butter or oil in a saucepan, and turn heat to medium-high. When butter melts or oil is hot, add onion and potatoes, along with a sprinkling of salt and pepper. Cook, stirring occasionally, until onion softens, about 5 minutes; add tomatoes and cook, stirring, for another minute or two.
After corncobs have cooked at least 10 minutes, strain liquid into onion-potato mixture; bring to a boil, then lower heat to a simmer. When potatoes are tender, add corn kernels and milk, and heat through. Taste, and adjust seasonings. Garnish with the parsley, and serve.
Enjoy complimentary shipping on 6 or more bottles!
It is Magnum Month at Rubino Estates, and we could not be more excited about the offerings we have for you. We tend to get many questions about the benefits of larger formats versus regular 750-milliliter wine bottles, so we thought we would share some helpful information about magnums.
They are Rare
Most wineries bottle a limited quantity of magnums, and they are often reserved for showcasing outstanding vintages, for marking a winery's anniversary, or for donating to charity auctions and events.
Higher Quality Wine
The aging of wine is accelerated when exposed to oxygen, also known as oxidation. There is a small amount of oxygen trapped inside every wine bottle, and a larger wine bottle has less oxygen relative to the volume of wine. This means that the wine oxidizes more slowly. Slower oxidation often translates into better maturation and higher quality wine.
Better Aging Potential
If you want to put a bottle away for a grand occasion many years in the future, a magnum is a great option. Slower oxidation means that the magnum will reach its peak long after 750-milliliter bottles have reached their prime.
Resistance to Temperature Fluctuations
The larger volume of liquid in a magnum takes longer to warm or cool and is, therefore, more resistant to potentially damaging temperature fluctuations.
They're Impressive
There is nothing like bringing out a magnum at a celebration. Whether it is a wedding or an anniversary party, they are an impressive sight to see.
Did you know we also have a Magnum Club? When you join the Magnum Club, you will receive two magnums each quarter, curated by our winemaker. You also have access to one complimentary Portfolio Tasting per year for up to 4 guests. You can sign up here!
It's finally football season! September is almost over and we may not be going to games, this fall, why not throw a nice socially-distant football party at home? Many associate football games with beer, but we think wine is a great option for all of your favorite football snacks. Below, we're sharing a few recipes and wine pairings for you to enjoy during the next big game. Let us know which one is your favorite!
Football Snacks and Rubino Estates Wine Pairings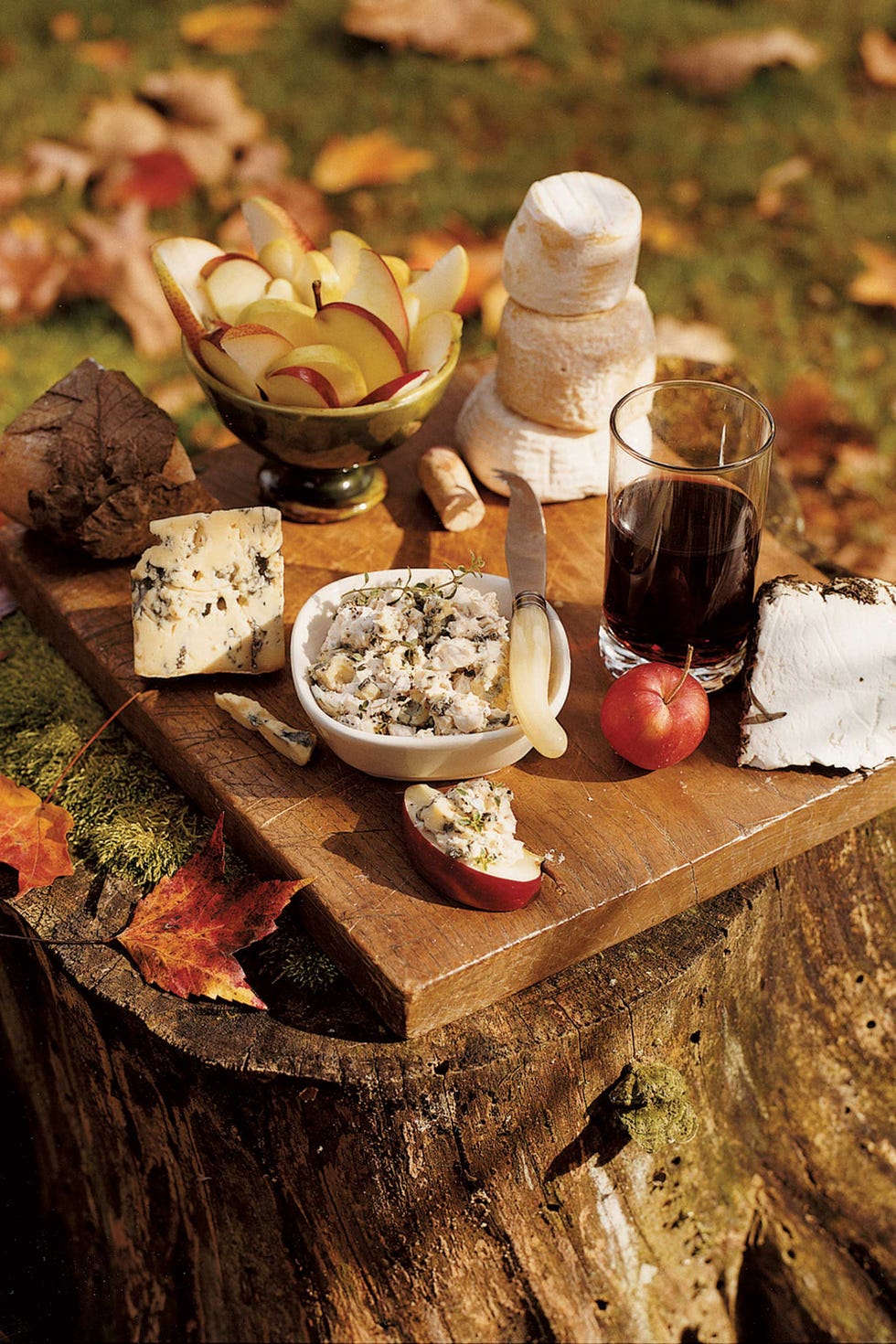 Tag us on social @rubinoestateswines with your favorite combinations!